A BIT OF HISTORY
Ever since we started in 1989, GAD FASHIONS has never looked back. Our customers have been our sole focus and at times been our inspiration too. We have always valued your inputs and advice and that is what makes us who we are today.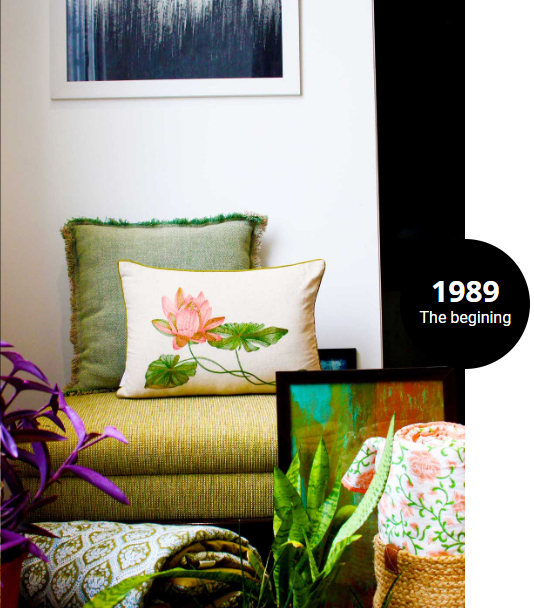 THIS IS HOW IT'S BEGAN
Ever since we started in 1989, GAD FASHIONS was first introduced to the world as a hand block printing set up. In 1991 we expanded and, hand screen printing was started followed by weaving, dyeing & printing on rotary was added to fulfill the requirement of wholesalers, department stores & institutional buyers globally cost efficiently. What had started as a small open house store, quickly became a brand with clients all over the world. Today we distribute to a number of clients in Germany, France, Sweden, Norway, Austria, U.S.A., Japan, Australia, etc. and produce a minimum number of 300,000 pieces per month.
We have a design studio with the capacity of 8 designers and a 120,000 sq.ft stitching unit with over 500 stitching machines. We have our own In-house digital printing and laser cutting machinery, along with distinguished washing and dry cleaning units. If you happen to visit us in Jaipur, India, we would love to take you to our many showrooms spread across the city.
WHY CHOOSE US
Every step of the way we have mutually imbibed and imparted education, and so, today what you see in us is an amalgamation of years' worth of diligence, learning and conviction. We are a bunch of professionals from varied ages, qualifications and expertise who work together for the love of creation. In our early days, what started as a small set up for block printing has today turned out to be one of the largest exporters of handwoven and handloom fabrics.
If you are still reading this, perhaps you are looking for some outright reasons to start a relationship with us and here are a few simple ideas that may help you make an instant decision.
On-time Delivery

We understand that your business is personal to you and we value your ideas, opinions and mostly your time. We have a fully-fledged operational unit and a team of widely experienced staff that delivers what we commit, when we commit and how we commit to you. You, in turn, end up saving your time and energy, so you can be focussed elsewhere, while we take care of everything for you.

We are one of the largest exporters from Jaipur

We aim to be one of the largest and most revered manufacturers from India and understand this is not possible without dedication, commitment and hard work. Working towards our goals we have come a long way ahead and today we own an in-house design studio, production facility, and auxiliary units like digital printing, laser cutting along with in-house washing and cleaning units.

A 100% quality assurance

All's well that ends well – An old anecdote but we believe the core of it is true. To realise this, we have an in-house set up for finishing and packaging our material that ensures a high-quality delivery to you each time, every time. In other words, we have a 100% transparency rule. This step has helped us achieve milestones and attain worldwide trust and recognition for our products.

Innovative Designs

All our designs are modelled by keeping the latest trends in mind not forgetting originality and traditionality. Our innovative team of designers create hundreds of designs every month keeping all innovations in vogue.

Product Variety

We have delved into almost every imaginable fabric and product variety and take pride in working with linen, velvet, handwoven and handloom, polyester and specialise in burn out fabric. Our product range includes a remarkable array of lifestyle products such as pouffes, cushion covers, chair covers and chair pads, bed covers & quilts, table cloth, table runners, throws, roman blinds & curtains, bags & pouches, and women's apparels.